Jack Gold Molina - It's Psychedelic Baby Sci Fi Reality review 29.11.2021
Paradise 9 – Science Fiction Reality
Paradise 9 is a fine example of a masterful UK space rock band. Founded in 1997 by Gregg McKella, the lineup has undergone many changes over the years with McKella its main constant and leader. Paradise 9's lineup on their latest CD release consists of McKella on vocals, guitar, glissando guitar, synth and clarinet; Alternative TV and Spaced Ogs guitarist Tyrone Thomas; Casual Affair's Neil Matthars playing bass, and Deepskin's Wayne Collyer on drums. A word about the production – it is tight and clean, the music adventurous.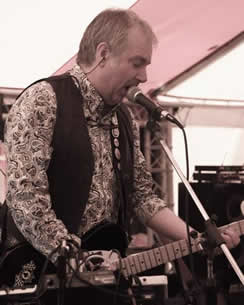 Gregg McKella 2017 | Photo by Jack Gold-Molina
From the punky opening verses sung by McKella to Thomas's bluesy, psychedelic guitar work on the first track "These Are The Days", the band takes off to interstellar space – a place of "science fiction" and "science fact". Here lies the conundrum that sets the tone of the album and begs a very real and difficult question: What have we done to this planet?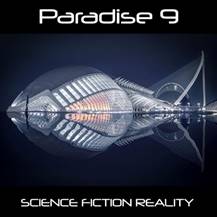 On the title track, McKella's synths caress the mind while the band's songwriting provides a glimmer of hope in the face of "ever increasing conspiracies…spreading seeds of doubt." However, the straightforward lyrics make it painfully clear that while we as a race may be unhappy with the current state of our planet, we are blindly continuing to make it profoundly worse.
Science Fiction Reality is a bittersweet, beautifully written and skillfully performed album. Tremendous space rock with an intelligent and optimistic zen-punk message, it takes the listener on a deeply psychedelic exploration of what is happening within our world and to the earth.
The musicianship and the musicality are of the highest order. The lyrics are often difficult to take because they ring true. Dystopia could easily become a global way of life due to climate change, terrorism, war, and a multitude of economic and political factors. In many countries, it already has. As a people, we are failing our planet, and that has to change.
https://www.psychedelicbabymag.com/2021/11/three-from-the-galaxy-of-kozmik-kens-psychedelic-dream-festival-article-and-photography-by-jack-gold-molina.html